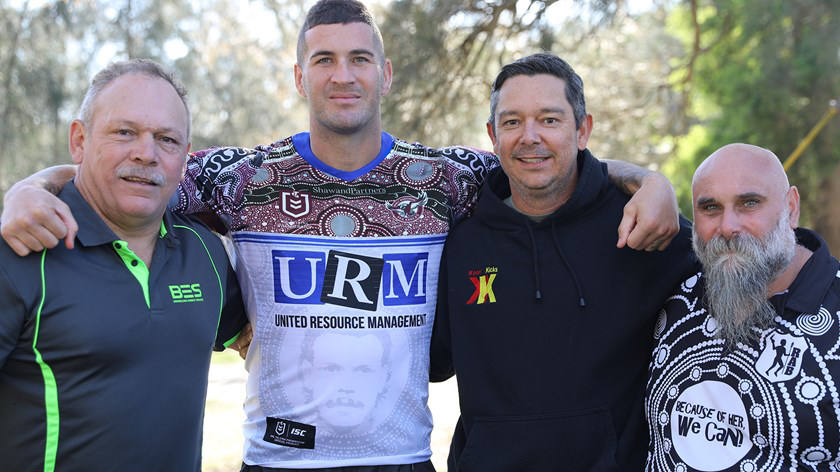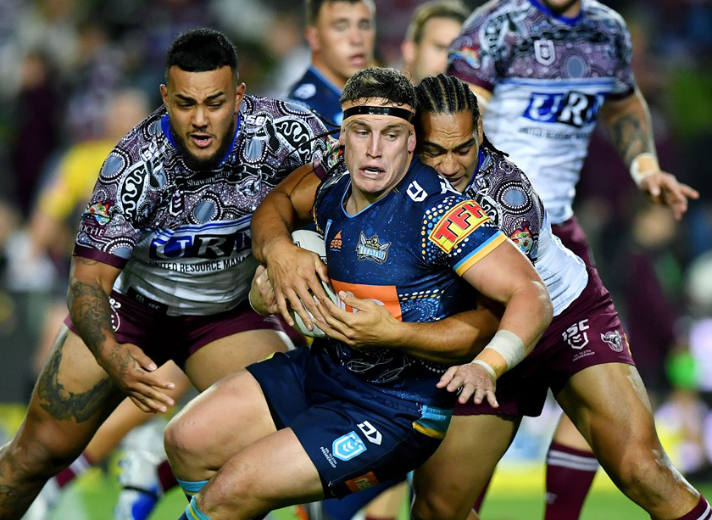 ARTWORK TITLE
THE LYON'S DEN
BRIEF
Create an artwork for Indigenous Round 2019 that will symbolise legendary Manly Sea Eagle Cliff Lyons.
STORY
The Lyons' Den follows the football career of Rugby League legend Cliff Lyons, from his humble beginnings as an under 12's player for the Gundagai Tigers right through to his playing days in the NRL with Manly and representative duties for the Aboriginal team, NSW & Australian Teams.
On the bottom left of the artwork, the portrait of Cliff is surrounded by a circle of dots and the Aboriginal symbol for man & woman, this represents Cliff in the Lion's Den, his home ground of Brookvale Oval surrounded by his many adoring fans. Surrounding the large circle with Cliff in it, there are a number of larger grey circles, these represent every club that Cliff has played for.
The journey lines connecting these meeting places are there to represent his journey to the big show. There is also a black area with lizard tracks, this represents Cliff's Aboriginal totem, "the lizard", either side of this area is a wash of blue and white dots, these represent the ocean, and the white wash of the Manly shoreline. Bottom right of the artwork is a Lizard, again a representation of Cliff's totem. Within the Lizard lies some of Cliff's stats. Firstly the front legs contain 102 dots, this is Cliff's Hall of Fame inductee number. The back legs contain 80 dots, the number of first grade tries Cliff scored for the Sea Eagles, Down each side of the lizard's back are 6 dots and 5 dots, representing his 5 goals and 6 field goals for Manly. When you combined all dots and lines within the tail, it totals 309, the total first grade games played for Manly.