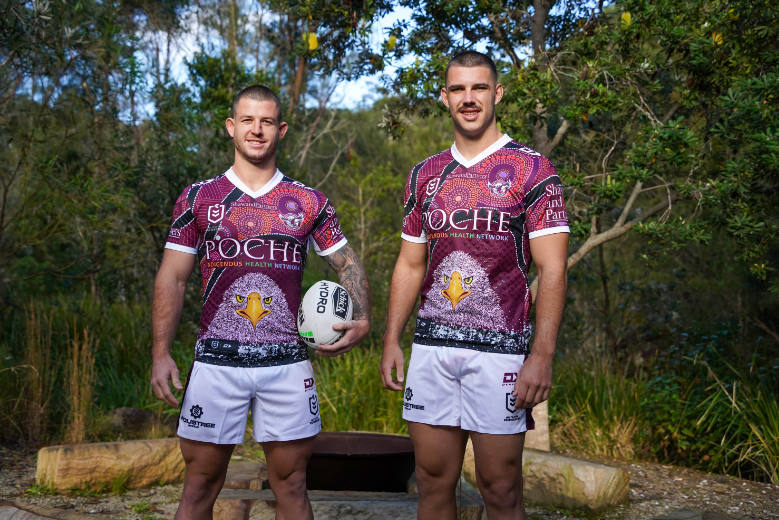 ARTWORK TITLE
WARRIORS OF MANLY
BRIEF
Design an artwork to be used on the Indigenous Round Jersey 2021.
STORY
The white section running along the base of the artwork represents "Middens" – Middens represent a build up of oyster and cockle shells, as well as animal bones and charcoal. Some middens also contain artefacts and tools made from stone, bone or shell. These were commonly found around the coastline of the Manly area.
Sunrise with warriors : Upon sailing into Manly Cove, Captain Phillip makes contact with the local native population, Phillip was impressed by the "confidence and manly behaviour" of the Aboriginal people in the area and so called the place "Manly Cove". Trade with local Aboriginal population soured and Captain Phillip was speared by the local Gayamaygal people. This section of the artwork represents the strength and presence of the local Indigenous warriors.
Black Lines leading into the sunrise : These sections represent the various trails that the clans coming into Manly Cove would travel to trade with Captain Phillip, they also represent the tracks in which the Gayamaygal people would use to reach the shorelines to hunt & fish. The Gayamaygal were very skilled fishers.
Large circles on the edges of the artwork represent the Gayamaygal people, and where they live.
Sea Eagle rising from the earth : The Sea Eagle represents strength, and like the Gayamaygal people, they are confident hunters and precise with catching their prey. They are known for being at one with nature, and knowing how to ride the currents. Sea Eagles can represent transformation, new beginnings.
I think this is significant to the Manly Sea Eagles, as they continue to transform, and with each season comes change and new beginnings, as new players pull on the Manly jersey. Manly has always been known as club that is built on strength and discipline, something that must be obtained by a Sea Eagle, should they be a successful hunter.