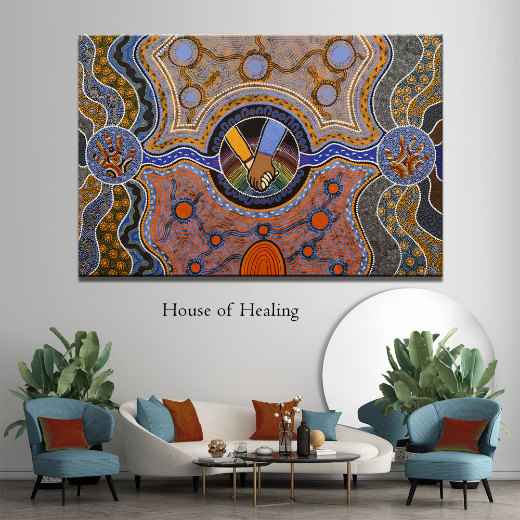 Ronald McDonald House – Western Sydney

ARTWORK TITLE
HOUSE OF HEALING
BRIEF
Create an artwork for RMH's Reconciliation Action Plan. Artwork is to represent RMH's journey along with their continued support of all members of their community.
Artwork is to include the following :
Including hands to symbolise the care we provide to families, but also the many hands involved with delivering this care.
Representation of the 3 houses we have occupied over our history.
Aboriginal symbols related to – Family, Love, Meeting place etc.
Representation of the diverse people who travel from far away and find comfort/ hope/ community in our care.
STORY
Center of the artwork we have a large circle (meeting place) which is connected by journey lines to two smaller meeting places, all three have hands in them. These represent the three houses in which Ronald McDonald House (RMH) has been in over the past 40 years. The main meeting place in the middle is surrounded by "U" (Person/Man/Woman) and "O" (Child) shapes, there are 35 of these, they represent both families coming into RMH and the number (35) represents the 35 employees of RMH. There are also more than 200 volunteers that work at RMH, these are represented by the 200+ footprints coming into and surrounding the main meeting place.
These footprints also represent the families coming into the house for treatment and support and then leaving to the house once their treatment has finished and they head back home, still with the connection of their experience to RMH.
The rainbow behind the hands in the main meeting place represents love, support and inclusivity of all people, with the common bond of nurturing and protection of all the patients of RMH. There are several journey lines interconnecting meeting places throughout the artwork, these swirling lines and circles represent a couple of things. Firstly, the journey of its patients, their journeys are met with many ups and downs, which is represented by these lines. They also represent water flowing with watering holes, water represents healing, and their journey as part of RMH is a journey of healing and connecting. Although this is a tough journey for many, along the way, they make lifelong friends and a support system that allows them to grow beyond their stay at RMH.
The bottom middle of the artwork has a large orange symbol that can be both a rainbow or a mountain. The rainbow is a representation of hope, and a mountain is a representation of strength.
The hands in each smaller meeting place represent support/helping hands. The main meeting place has hands of a child and an adult, this represents the support these children have from both staff and family, that they are not alone on this journey, and that they are supported from the beginning of the journey to the end of their treatment and stay at Ronald McDonald House.